Employer of Record Meaning
An Employer of Record is a company or organization that is legally responsible for paying employees, including dealing with employee taxes, benefits, insurance, visa application, and sponsorship applications and a great many other transactions and operations concerning human resources.
Companies often hire EORs to decrease all the complications and vicissitudes related to human resources operations, market access, market understanding and market participation, and managing payroll for international employees.
When you use an EOR, they formally become the employer of your employees. This invaluable outsourced service keeps a business in compliance with labor law and other fields of related regulations and significantly assists the company during its internationalization.
In international scenarios, regulations regarding benefits and taxes can vary and be very complex. EORs help companies penetrate new markets, manage benefit systems more efficiently, and can even sponsor work visas.
---
Why use an Employer Of Record?
Hiring, or what many call "partnering", with an employer of record comes with several benefits.
Hiring an EOR gives the client's company the opportunity to manage their time more efficiently and effectively.
The client can see immediate effects in terms of cost structures, human resources operations, employee benefits, payroll, and overall compensation, not to mention compliance issues regarding domestic and international regulations.
International Employer of Records, also known as Global Employer of Records, can offer the same services in several countries around the globe.
This restructuring of the company's cost dynamics allows for an improved cash flow and increased saving, as well as an increase in marginal expenses. These savings can, in turn, provide funds for a business expansion in other areas or help achieve its strategic mid and long-term objectives faster.
An employer of record is not merely a staffing agency, although, they can hire quality employees almost immediately, so client companies can quickly escalate their growth plans regarding staff.
Though, being true that Employer of Records usually work with staffing agencies in order to find talent, the EORs manage everything else.
The reason is that many of these staffing agencies are not able to provide training to human resources, nor have any payroll and accounting prowess. In addition, these staffing agencies lack the skills and knowledge regarding compliance, risk, insurance, and benefits. In most cases, they are unable to meet the demands of being an employer.
To sum things up, using an Employer of Records has three main benefits:
Time and indirect costs savings
Increased regulatory compliance for national and international scenarios
Reduced risk, as the risks of being an employer fall almost completely on the employer of record.
---
Employer of Records and Liabilities
When using the EOR model, the client companies maintain a certain control over all their business operations and assume responsibility for workplace safety and related on-site regulatory compliance.
However, the employer of record takes on all the responsibilities and liabilities for issues regarding employment relationships such as administrative operations, payroll, taxes, employee benefits, and record compliance.
The client has now a group of experienced individuals who will deal with these complex matters. The employer of record shall take care of the regulatory, compliance and tax issues.
This will give the client more time to think, create and improve his business.
---
Employer of Record vs PEO
Even though they seem similar and many companies tend to confuse them, Professional Employer Organizations (PEOs) and Employers of Record (EORs) provide very different services.
There are several factors that differentiate these two outsourcing models. Here we focus on the main differences:
Liability
Regulatory compliance management
Insurance
Business registration.
---
With a PEO the Client Company is More Liable
An EOR essentially hires a portion of your employees and puts them on a payroll, or assumes a certain segment of your business. However, a PEO assumes responsibility for all of the client's employees and is able to provide all the human resources services needed.
This being said, when dealing with a PEO, the client holds or signs the employment contracts. When dealing with an EOR, they hold the employment contracts with the client's employees and they engage in a service agreement with the client.
This is important because if the client is not sure about the difference, there can be significant legal risks because the burden of liability is distributed differently.
In reality, a PEO becomes the client's co-employer. The client company still assumes all liabilities and responsibilities. An EOR becomes the legal employer of the client company's employees. Because of this, the EOR acquires the liability load. Additionally, all the disputes and issues that arise from employment contracts are covered by the EOR.
---
EORs Manage Compliance Better
PEOs are not completely in charge of your clients in some specific situations, for example, when hiring on another country or jurisdiction. Full compliance with regional regulations is mandatory, and some PEOs are not able to provide this service.
Because of its contractual relationship with the employees, an EOR is much more involved in tax regulations and many other benefits and compliance concerns. This means that, when easing the time drain/workload via outsourcing, an EOR tends to reduce the clients "compliance headaches" much better than a PEO.
---
Employer of Records Take Care of Insurance
When hiring a PEO, the client company must also pay for the PEO's insurance policy, as well as their own.
However, when dealing with an EOR, the client's employees are covered under the EOR's insurance policies. EORs are good at complying with all the insurance regulations, especially when it comes to health care, which the EOR also offers to the employees.
---
Business Registration is not a Problem with EORs
When using/hiring a PEO, the client is not exempt from registering their company in any country or state where they do business. This can be a complex legal requirement and can result in lofty legal fees as well as increased liability because the client would essentially have to be an expert in the corporate law of every location.
However, most EORs are already registered at the locations where they operate. This way, the client company has no need of registering itself in different locations.
---
Conclusion
Overall, the final decision of contracting the services of these types of companies, relies exclusively, on the level of liability and stress that the client wants to handle. The complexity of payment schedules, the number of jurisdictions and insurance policies involved in your current staff, will provide the answer on which one will suit you better.
Also, the sums which will be invested in the service provision offered by these two types of companies have to be compared, with the stress and money of doing so by yourself.
For example, when making the decision keep in mind the costs, both in time and money, of setting up companies overseas. These set of actions will extend the scope of liability, the jurisdictions where you can be sued, and will, most likely, exceed the difference in the price for service provision between these two.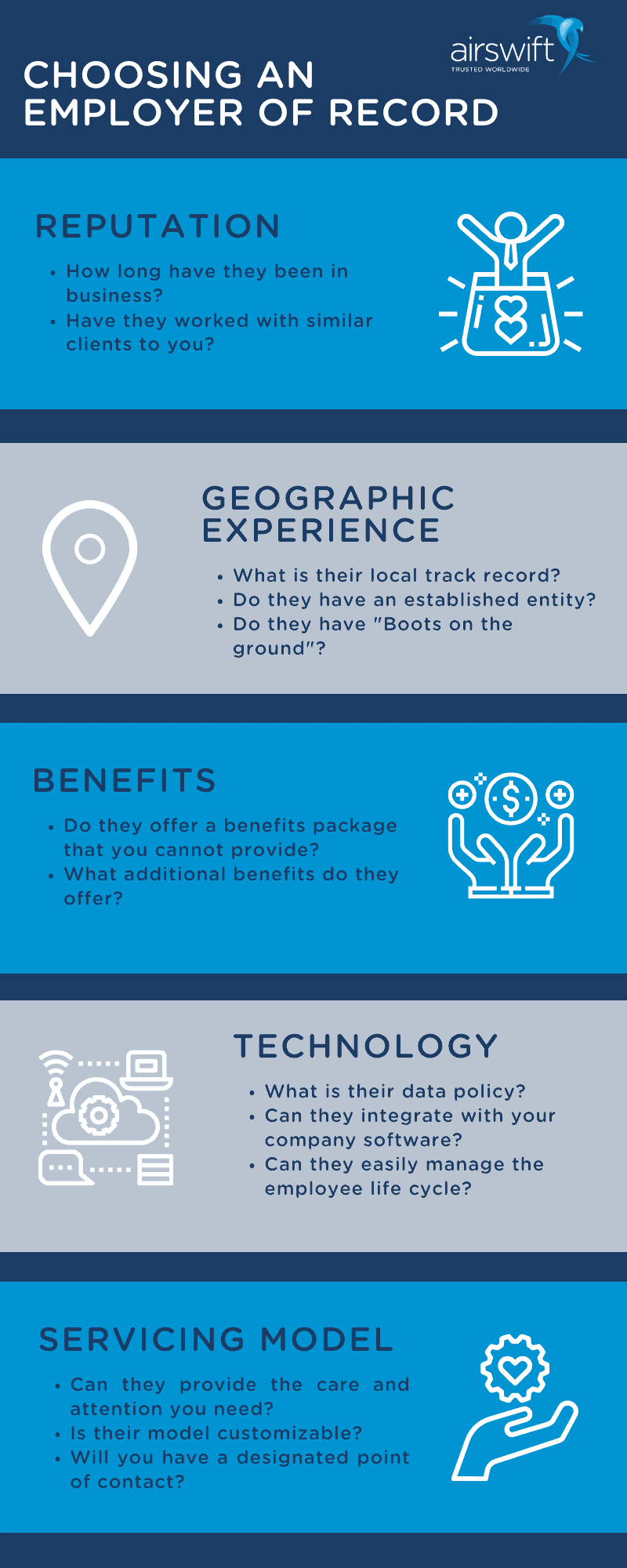 Horizons continue to be tops at providing their brand of comprehensive support services. New businesses can rely on their local presence that delivers tailored solutions. Their worldwide client base is diverse and includes Fortune 500 companies.
For businesses completely unfamiliar with the markets,Horizons offers a full suite of PEO/EOR solutions to ensure their clients are able to handle turnkey business openings. Fast hiring, expedited employee onboarding, and easy employee contract administration are just part of their service offerings.
Website : Nhglobalpartners.com
The Global PEO network is based in Hong Kong and offers its services in more than 160 countries worldwide. Successful partnerships with Fortune 500 companies and a wide range of industries have helped their company grow rapidly.
Global PEO offers a range of services, including international recruiting, and utilizes local experts to deliver tailored results for employee searches, site consultation, onboarding, and more. Their emphasis on assisting clients with multiple locations worldwide and local experts is often a winning proposition for expansions into new markets.
Website: Globalpeo.com
As a leading global recruitment agency and PEO, SkyExecutive is able to meet both recruitment and day-to-day employment needs for companies looking to expand overseas. SkyExecutive's recruitment consultants are local experts who know not only how to find the best talent, but to keep it through their professional PEO/EOR services and talent management offerings. Many large companies, including Fortune 500s, have partnered with SkyExecutive for PEO/EOR services that integrate seamlessly with recruitment, so the company makes an excellent option for foreign investors looking to recruit new teams and expand globally.
Website: Skyexecutive.global
If you are interested in expanding your business operations overseas with a global Employer of Record, GlobalizationPedia can help match you with an EOR that best fits your needs. Fill out the form below and we'll use our extensive database of strategic partnerships to provide you with a complete breakdown of the best potential matches for your company.